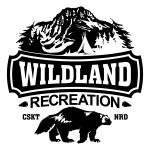 Website Confederated Salish and Kootenai Tribes
SALARY: $16.26 to $18.69 per hour        CLOSING DATE: Thursday, May 25, 2023 at 5:30 p.m. 
The Wildland Recreation Programs Blue Bay Camp Ground Worker  is responsible for the day to day duties of the Blue Bay Campground and associated buildings.
The Blue Bay Campground Worker position's major duties and responsibilities include, but are
not limited to the following:
DUTIES:
– Sales of merchandise, rental sales, documenting sales, money handling, receipting,
remittance, monitoring inventory, ordering stock, maintaining files, and generating
reports, assigning slips;
– Performs tasks which require strenuous physical activity;
– Assist with inventory, ordering and purchasing supplies for operations and maintenance;
– Performs custodial duties in all Blue Bay Facilities: clean bathrooms – toilets, sinks,
floors, walls, garbage, mirrors, showers, and common surfaces;
– Operates various power tools such as chainsaw, radio equipment, utility tractor and
other vehicles;
– Responsible for the care and storage of tools, vehicles and other equipment;
– Maintains facilities and infrastructure, including picnic tables, signs, docks, toilets,
showers, living quarters, fences, etc.;
– Provides grounds maintenance and enhancement, such as garbage removal, grass
mowing, brush and tree pruning and road parking area maintenance;
– Assist with routine repairs on buildings; including painting, siding, roofing, carpentry,
plumbing and minor electrical work; only under direction of supervisors;
– Security duties such as: Patrolling entire Blue Bay Property for visitor regulation, inform
guests of campground rules, fee compliance, notify proper authorities of compliance
violations or other problems as they arise by phone. Document daily activities in verbal,
written and computer-generated reports of incidents for campground records and law
enforcement;
– Other duties required or assigned.
MINIMUM QUALIFICATIONS (AS REFLECTED ON THE TRIBAL EMPLOYMENT
APPLICATION):
– Must possess a high school diploma or GED.
– Must possess a current valid Montana driver's license.
– Required to obtain and maintain a First Aid/CPR Certification.
– Experience in security, maintenance, custodial, cashier, operation of RV hookups, boat
trailering, and water and sewer systems.
– Must be able to get to Blue Bay Campground for work, reliably and on time.
– Must wear Tribal Government identification and safety apparel when conducting field
activities.
– Must be able to work outside in inclement weather condition
SPECIAL CONDITIONS:
This is not a Testing Designated Position (TDP) within the definition of the CSKT Drug Testing
policy. The successful applicant, if not already employed by the Tribes must pass a
pre-hire drug test and serve a mandatory six (6) month probationary period.